"No matter what, the sun is going to rise tomorrow"; a phrase my dad always used to say to me when I was a kid, after a bad gymnastics competition. Some days it's really hard to see the sun on the horizon but it's nice to know that it is there.
Canada Cup champagne shower | Photo: Danielle Baker
Coming off of a successful BC Champs, where I took the win, I felt primed for Nationals and was looking to snag a top 2 finish to solidify my place on the Canadian team for the upcoming UCI World Championships. Last year I captured 3rd, on what was an immensely fast, dusty and loose track. I personally was looking forward to racing the same track again, but this year, just a few short days before riders embarked on their respective journeys for Sun Peaks Resort, some last minute alterations were requested to slow the track down and add some more technical aspects.
Sadly with so little prep time however, Sun Peaks trail crew were not really left with many options...so on day one's track walk, riders were greeted to a revamped "technical section", which consisted of 7 of the tightest, most awkward switchbacks, winding down the ski run and linking up two of the original race course sections. I just couldn't figure out how to feel good in those tricky corners and sadly I just couldn't keep it together out there on race day. Sadly during my race run I felt my goal slipping away as I made mistake after mistake, feeling precious seconds ticking away on the clock. I had to settle for a disappointing 4th this year...but it was great to see Miranda Miller finally capture the coveted "Canadian Champ Jersey" and good friend Matt Beer win the title for the men!
The disappointment from Nationals added a bit of extra fuel to my fire and so I decided to head to Panorama the next weekend for Canada Cup #2 and a shot at some redemption.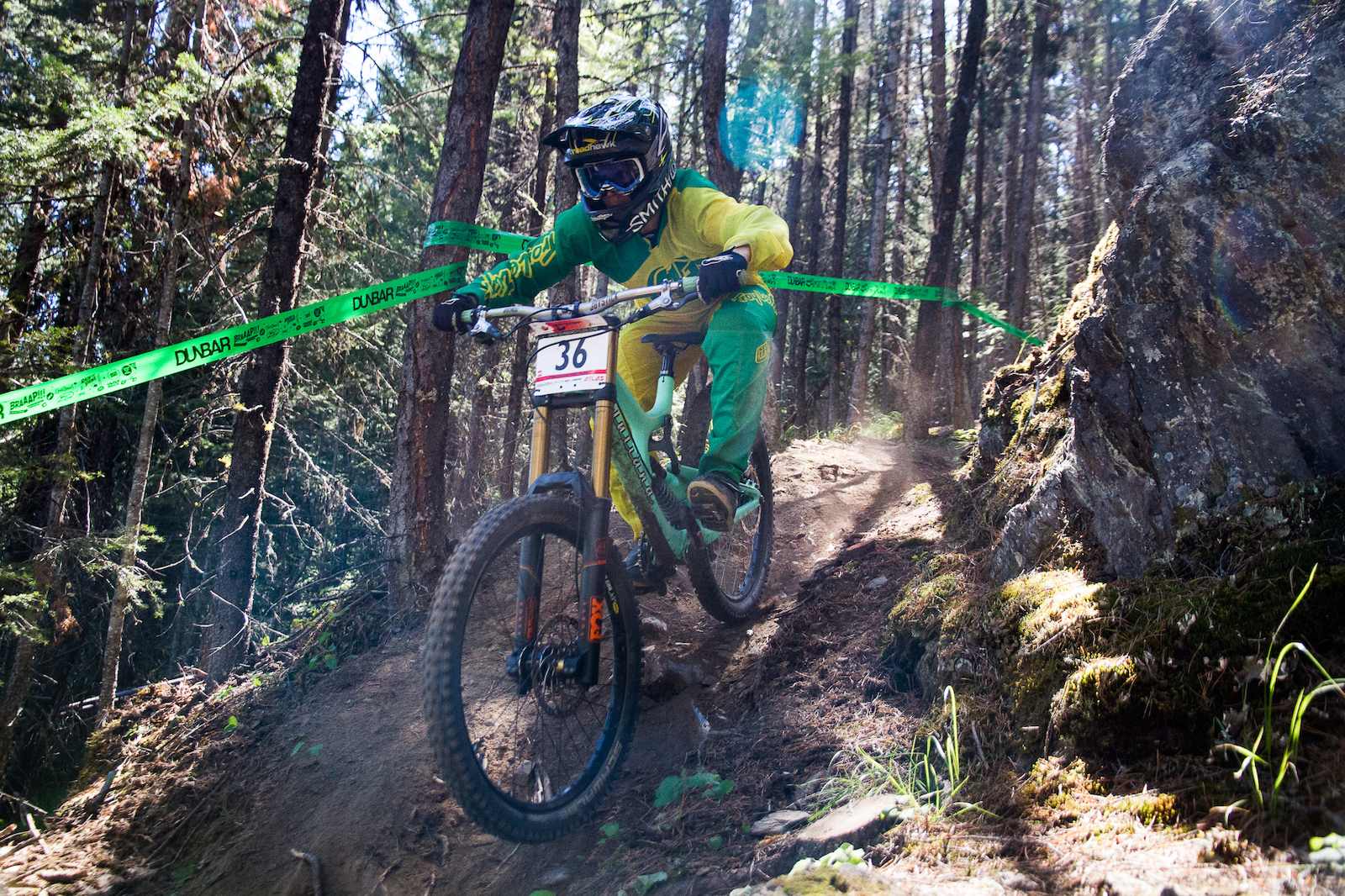 Seeding Run | Photo: Danielle Baker
The Canada Cup was part of the
"Dunbar Summer Series"
so was sure to be a good time, since it's an event hosted by Stephen Exley. Oddly enough I've never seemed to have much luck racing in Panorama, but
SE Racing events
decided to combine two of the best sections of trail from the different versions of course selections from past year's races. This made the track longer, rougher and added another pedal section, making the course even more fitness oriented.
I smashed out lap after lap, feeling great all weekend and ended up coming away with second place, behind Canadian legend (and 2nd place finisher at Nationals) Clair Buchar. It was also pretty cool to see Troy Brosnan out racing, making it an exciting day for the boys as well...he took the win but Matt Beer was close behind him in 2nd with Forrest Riesco rounding out the top 3.
Big thanks to Stephen Exley, Panorama Mountain Resort and all the volunteers for making the weekend a great event! If you're ever racing in BC you have to check out one of Stephen Exley's events...top notch fun and equal prize money for the ladies!!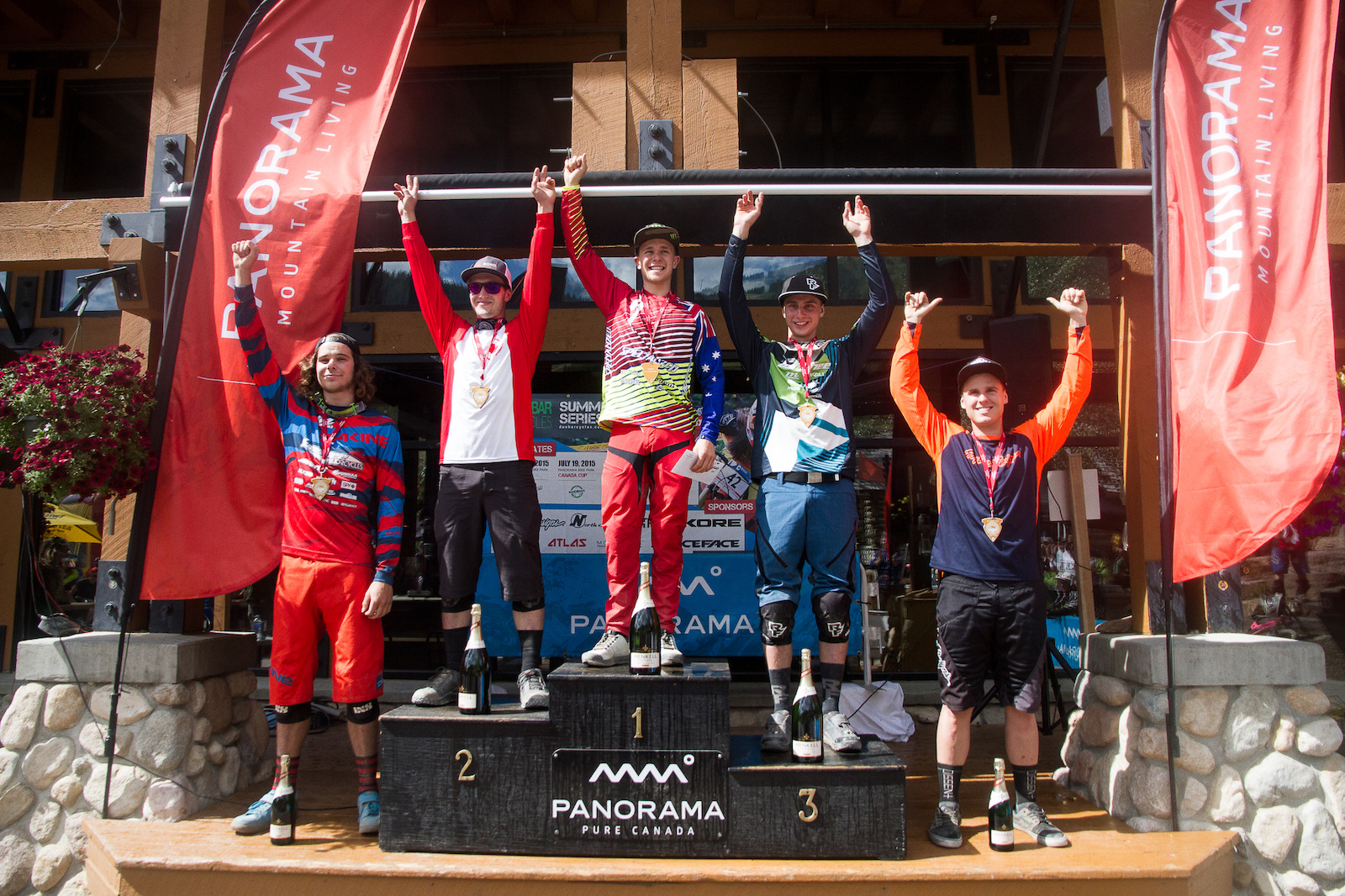 Men's podium | Photo: Danielle Baker
After a successful Canada Cup weekend, I headed east to Mont Sainte-Anne for World Cup #5, and what was to be the 25th anniversary of racing on this iconic course. To celebrate 25 years of epic racing, track crews had re-routed the track and made some amazing changes, which I'm sure will become new rider and fan favourites. It was also pretty cool to know that Julie Furtado, the name sake for the Juliana Bicycles brand, had raced to a win at this very spot 25 years ago. I had hoped to channel her awesomeness and claim my first top 10 at a world cup! (check out this little story on the Juliana web-site:
here
)
Although I absolutely love the MSA track, for some reason I just can't seem to shake the monkey off my back in terms of my luck in the good 'ol land of the French, but I went into practice days with a positive attitude and stoked to hit the new features and crush the massive finish line jump this year!
Things were going great, and I conquered all the features and any fears I had of the 55 foot sender at the finish. It was time for qualifications...I was riding so well until I suffered a flat tire when landing off the new big rock drop about 1/3 of the way down the track. I thought about pulling off, but then figured what the hell... it's Mont Sainte-Anne and you never know what can happen. I kept pushing, but was obviously off the pace the whole way down and had to opt out of riding any of the big jumps that were to come. As I made my way down the course (cringing at every rock and root I had to bang my way through) I just kept thinking "don't give up" keep pushing. As I crossed the finish and saw that I was still inside the top 20 I was utterly shocked! With only a couple riders left, I couldn't believe that I might actually qualify...and qualify I did. I just snuck in to 20th spot and I thought that might be a total good omen for what was to come for finals....
Railing the top section during practice | Photo: Sven Martin
A pretty emotional day led to me trying to get my wheel fixed to be able to race the next day...I didn't have a spare wheel set, but thankful my
Spank
wheels were somehow relatively in tact despite riding down the rough terrain that is Mont Sainte-Anne. A huge thank you to XFusion, Stans NoTubes and Bergamont mechanics for helping me out that afternoon and getting me rolling.
I was pretty pumped to race for finals and given my little "twist of fate" in Quali's the day before I was sure this was going to be my year! In Quali's I was 9th at the first split, which was actually after I had flatted so I was really excited to see if I could hold onto that spot for my first top 10 result. I rode really strong through the upper section but things went bad when I hit some big rocks that had emerged on the landing of the rock drop (the same very spot I flatted the day before) and I was sent flying!! It was a pretty heinous crash and it took me several moments to move off the track and figure out if I was okay to continue on. I was shaken, but I knew if I could just get to the bottom at least I'd get a time and get a few points to boot. It wasn't an easy ride down (I suffered another crash and another near miss) and I had to decide on opting out of the last two features as I was really banged up and my head was just not in the game.
A really frustrating incident (a bit of the sequence above caught by
Peter Kraiker Photography
) but I was still happy with my riding through the weekend overall and fellow Canadian, Miranda Miller, snagged her first ever World Cup podium finish which was pretty cool to be part of!
Riding and racing is full of ups and downs, or good days and bad days...and in some cases really UGLY days... ... But the sun did rise the next morning, like dad always said it would, and despite some epic stiffness I was already looking forward to next year where I could have another crack at this iconic track!
Until next time...